CAMP
This section is excellent for anybody looking for the right gift ideas for a youngster heading to summer camp. We explored the top Camp-themed Merchandise and put the greatest ones. Take a look at our collection!
Camp-themed Merchandise
Camp Coir Doormats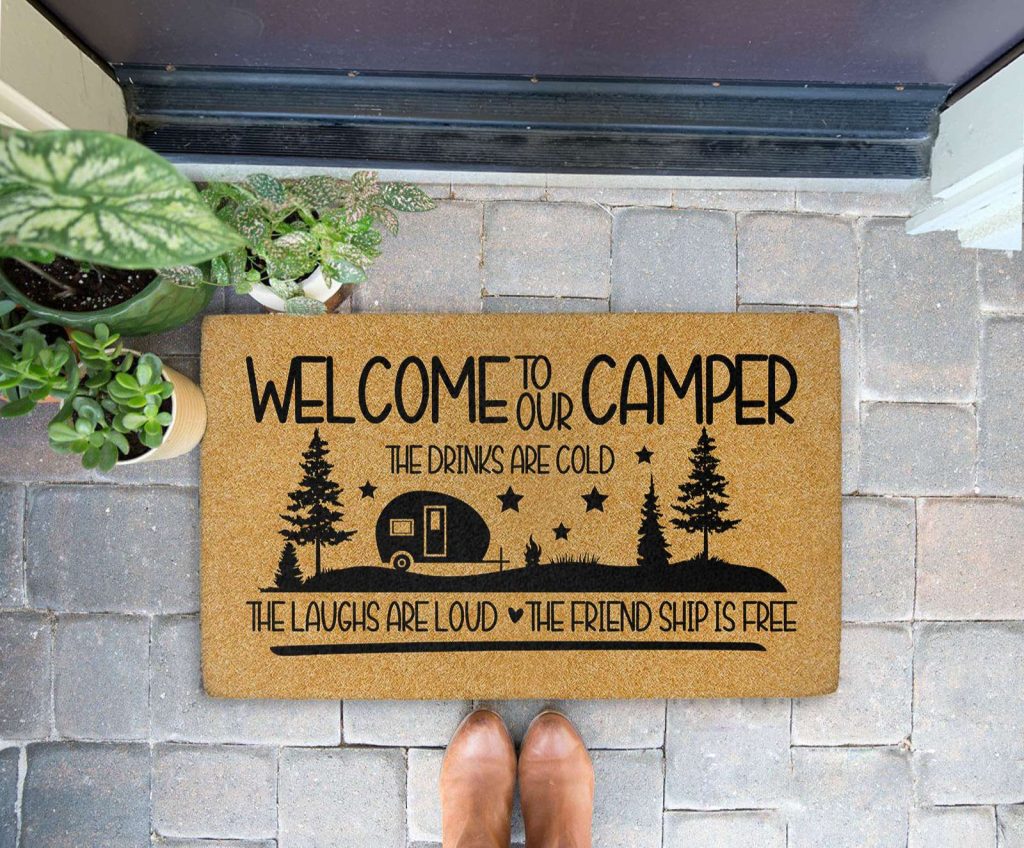 Camp Coir Doormats are the ideal accessory for a warm and inviting entrance to your house for guests. These camp doormats are high-quality, long-lasting products since they are constructed entirely of coir fiber. Coir mats are resistant to mold, mildew, and rot. It is ensured that they will serve their purpose for many years to come.
The humorous design of the Camp Coir Mats includes a scene with a campfire and several items of camping equipment such as tents, lanterns, sleeping bags, and camp chairs. They also depict some plants in the forest or happy campers in your journeys. This will brighten up your front entry with a splash of color and put a smile on your face each and every time you enter through the door.
Camp Posters
Camping is a popular summer activity. Camping on the beach, in the mountains, or in your own garden has a wonderful quality to it. Camp-themed Posters are ideal for adorning your house or business. The vintage photographs will bring back joyful childhood memories and urge you to go target shooting or hiking!
The best part about camp is that it allows you to let free, be yourself, and meet new friends. If you want to spread the word about your favorite summer camp, these Camp Wall Arts are a necessity! The prints come in a variety of sizes and colors, so you can choose the right one for your home or business.
Camping is one of those hobbies that people look forward to every summer. It's a fantastic way to get away from it all and experience nature at its best. Whether you're going camping with family or friends, the Camping Artwork can help you adorn any room.
Camp Mugs
Coffee cups are an excellent approach to publicizing your preferred interests and hobbies. Whether you like Star Wars, Game of Thrones, or Harry Potter, there is a mug for you. This category introduces some gift ideas to get you started if you're searching for a mug that symbolizes your passion for camping and the great outdoors.
If you're looking for a unique gift for the camp lover in your life, the Camp-Themed Mugs are the perfect option. Camp Coffee Mugs feature classic designs that are great for anyone who loves the outdoors. The artwork on these Camp cups features a mountain scene with trees and a campfire. These mugs are available in many different sizes, so you can choose the one that best fits your needs.
Camp Mugs are made from high-quality ceramic material and have been designed to be strong and durable. They are also microwave-safe, which makes them perfect for everyday use at home or work. The mugs make it easy for you to enjoy your favorite hot beverage in style!
Camp Blankets
Camping Blankets are popular among outdoor enthusiasts, but they're also ideal for folks who want to relax at home and watch their favorite movies or television programs. These blankets can be customized with a number of themes and patterns, making them ideal for anybody looking to add some individuality and fun to their home décor.
Animal or nature-themed camping blankets are among the most popular kinds of camping blankets. If you want something more traditional, check for blankets with pictures of campfires or mountains on them. 
The Camp Blankets will keep you warm whether you're camping beneath the stars or lounging around the campfire at night. Because these things are adaptable enough to be utilized in any part of your house, you can even use them as throw blankets on your sofa or recliner.
Why Do We Go Camping?
Everyone you question will give you a different reason for going camping. Some people choose to unplug technology and reconnect with nature. Some families go camping to reconnect with each other away from the distractions of home. Many youth groups teach kids how to make a fire, pitch a tent, and read a compass. Camping may mean several things to different individuals.
Tradition
Camping is one of those pastimes that is just handed down from generation to generation. People have been camping in national parks for almost a century, and many visitors who camped as children now camp as parents and grandparents, passing on a love of the outdoors to their children. Will you continue this tradition?
Investigate Nature
Camping is an immersive experience, whether you're pitching a tent in the forest or parking your RV in a front-country campsite. Campers are affected by rain, wind, and snow. (Along with some sunlight!) They may encounter animals in their native habitat. At various times of the day, people may observe natural features such as mountains, seashores, or sand dunes. Spending evenings outside enables individuals to see stars that are not visible at home and hear natural noises such as coyote yips and songbird trills. People camp for one purpose above all others: to enjoy an experience in nature.
Improve Your Health
Camping is excellent for the body (and mind). The physical challenges of wilderness camping obviously qualify as exercise. However, any kind of camping provides health advantages. Some are simple, such as camping or hiking. Outside, mental health improves. Researchers discovered a correlation between outdoor activities and a reduction in sad thinking. Sleeping beneath the stars allows you to reconnect with your natural circadian rhythms, which is the cornerstone for good sleep and wellness.
Improve Your Life Skills
Camping necessitates relying on yourself and your partners to satisfy your fundamental requirements, such as purifying water, building a fire, surviving the weather, and being alone with your thoughts. However, these qualities provide you with confidence and self-worth that will carry over into other facets of your life. With a little work and direction, you'll be putting up tents in no time!
Conclusion  
Have you ever attended a summer camp? Remember how much fun it was to be away from home for a while, meet new people, and take a vacation from school? You obviously did. What made it so special? Most likely, your ridiculous but adorable summer camp t-shirt, the one with your name on the back and the memorable year on the front. What were we thinking? Every item of Camp Merchandise is a reminder of your time there that brings a grin to your face simply thinking about it.