BEER
Come on in and join the party spirit with a variety of beer-themed products available at DramaShirt. We offer everything a beer enthusiast might want. If you are looking for a fantastic present to give to those who are passionate about beer, then you have come to the right site.
Beer mugs are an essential component of the barware collection of every beer enthusiast. Because they are constructed to maintain the temperature of the beer even while it is being drunk, they are convenient to use whether you are outside or just relaxing in front of the television at home.
Beer-inspired Mugs
There is a wide variety of mugs to choose from on the market for your daily mug of tea or coffee. If you are a fan of beer, consider beer-themed cups. Beer mugs are a great way to incorporate college décor into your home or business. There are a few beer mugs offered online that can be bought at DramaShirt for the next St. Patrick's Day or any other day of the year. Here are several advantages of utilizing our Beer-themed coffee mugs.
Reasonable Price
Because ceramic is a low-cost material, the mugs manufactured with it are much less expensive than those made with other materials such as glass, steel, copper, and so on. This is the primary reason why when individuals choose which mugs to purchase for their everyday drinks, ceramic beer mugs come out on top.
Strong
Ceramics is a mechanically robust material that may be readily formed into the necessary shape. Mugs and other ceramic-made goods have a longer lifespan than glass-made mugs. Also, since ceramic can be readily shaped, many design mugs are conceivable.
Keep Your Drink Warmer/Colder for a Longer Period of Time
Our Beer Mugs offer the advantage of storing heat for a longer period of time. This means that if you brew your coffee/tea and then get distracted with other tasks, or if you enjoy your morning or evening drink slowly, you won't have to reheat it again and again. Ceramic beer cups should be at the top of the list for folks like you. Visit DramaShirt to get the right ceramic mug for your favorite beverage. We offer a large selection of ceramic mugs at affordable pricing.
Environmentally Conscious
Our coffee mugs printed beer funny graphics have a long lifespan. Consider how many throwaway cups you would have used up till now if you didn't have your own personal ceramic mug. As we all know, throwaway glasses are not biodegradable, thus we should attempt to use them only when absolutely necessary. Furthermore, since ceramic mugs are lighter than glass mugs, transporting them needs less room and personnel, allowing users to save money, gasoline, and effort. You know which mugs to purchase if you want to help safeguard the environment.
Enhance The Flavor Of Your Coffee Or Tea
When the cup you're holding is comfy, drinking becomes more pleasurable. Beer-themed coffee mugs are lightweight and have a nice texture; also, since the exterior surface of the ceramic mug does not heat up, it is simple to grasp, which is not the case with stainless steel mugs. The chromium oxide coating on the stainless steel cup absorbs all soaps, manufacturing lubricants, and other rancid components, making it unsafe to use in the long term. It is stated that after smelling something, the taste improves. When you use a ceramic mug, you may bury your nose in it to smell your beverage, which enhances its flavor significantly. It imparts the ideal earthy flavor to your beverage. If you want to enjoy your tea and coffee with each sip, get that elegant coffee mug, which is available at astonishingly low costs.
Excellent Personalized Gift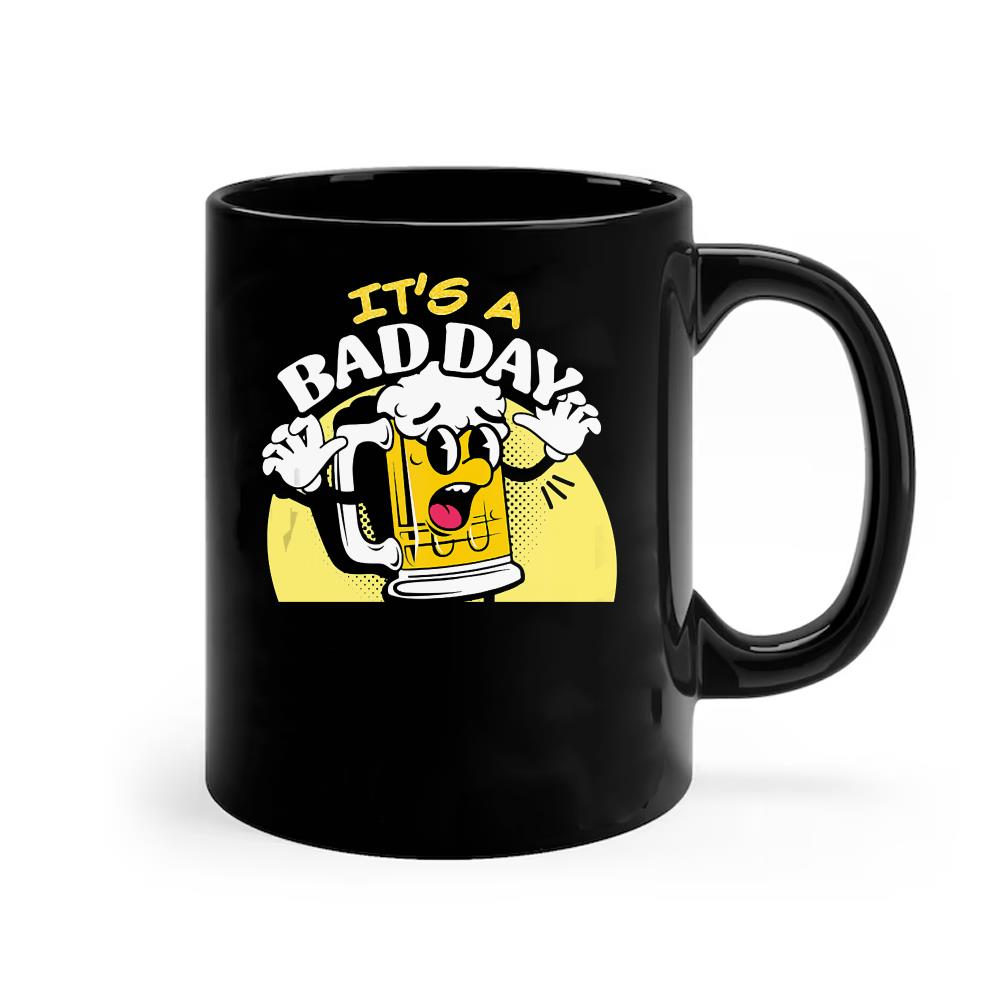 Tired of the same old, same old gift ideas? If you want to wow a friend with a one-of-a-kind present designed just for him or her, a personal ceramic mug is a good option. A beer mug printed with funny images will be a great gift. Consider how pleased your buddy will be to get this mug to drink coffee. So, anytime you want to show your buddy how caring you are, a specialized mug is always a good choice. We always have beer mugs available for purchase. It's great to have a cup of beer contained in lovely mugs or enjoy your beverages.
Why Should We Drink A Cup Of Beer Every Day?
Beer is an alcoholic beverage that, if drank in excess, has the potential to impair human health. However, it is entirely helpful if you know how to consume it in moderation, with a daily limit of one cup of beer. The following are some of the advantages of drinking beer on a daily basis.
You would be astonished at how many health advantages beer there are. It turns out that drinking a glass of beer every day is a highly beneficial habit for your body, not only because it helps your body fight some harmful diseases, but also because it is a delightful beverage. This barley drink provides a number of health advantages when consumed in moderation.
A moderate quantity of alcohol has been shown to help alleviate tension, decrease anxiety, increase self-awareness, and improve mood. Beer has a large proportion of vitamins, including protein, B vitamins, magnesium, selenium, iron, niacin, and riboflavin.
Beer Has More Nutrients Than Other Alcoholic Beverages
We often hear about the antioxidant content of wine, but beer has just as many. Because the flavonoids in barley and hops vary from those in grapes, the particular antioxidants change, but antioxidants are beneficial. Beer also has more protein and vitamin B than wine. Even better, beer is high in iron, calcium, phosphates, and fiber.
Beer May Help Keep Your Heart Healthy
According to research, moderate beer drinking may make you less likely to suffer from heart attacks, strokes, or heart disease than people who do not drink. Indeed, research comparing the advantages of wine, beer, and spirits indicate that moderate use of any alcoholic beverage is related to decreased incidence of cardiovascular disease. The New England Journal of Medicine is a peer-reviewed medical journal.
Beer Might Help You Avoid Kidney Stones
Beer consumption may help minimize your chances of acquiring kidney stones. Men and women who reported consuming a moderate amount of beer lowered their chance of getting a stone by 41%, according to recent research. Beers with a high hop content, such as pale ales, are high in phytochemicals that promote kidney health. The American Society of Nephrology's Clinical Journal
Beer Reduces Harmful Cholesterol
Beer's soluble fiber may help lower LDL or "bad" cholesterol. Increased soluble fiber consumption provides several health advantages, including the development of healthy blood sugar and cholesterol levels. However, since alcohol impairs the body's capacity to absorb vitamins and minerals, it may impair the body's ability to burn stored fat.
Beer Is Good For Your Bones
Beer may aid in growing stronger bones due to its high silicon content. Dietary silicon in the soluble form of orthosilicic acid (OSA) may be vital for bone and connective tissue growth and development, as well as helping to minimize the risk of osteoporosis, a bone-thinning disease.
Beer May Help You Relax
Researchers discovered that drinking two glasses of beer each day may help minimize work-related stress or anxiety. However, using alcohol to deal with stress on a regular basis may do more damage than benefit. While alcohol may assist with stress reduction in the short term, it may also lead to feelings of despair and anxiety, making stress more difficult to manage. American Psychiatric Journal
Beer May Aid With Memory Enhancement
Hops have a hidden component called Xanthohumol, which may assist boost cognitive performance. It is a flavonoid that aids in the slowing of memory decline. The chemical may aid in the protection of brain cells from the oxidative damage linked with dementia. (Important note: The dose utilized in the research was much more than what a person could conceivably absorb via beer.) The study is still in its early phases.)
Beer Improves Cognitive Function
Increased alcohol intake was related to improved function in middle-aged participants. Although these results do not advocate for greater alcohol intake, moderate alcohol consumption has been shown to improve cognitive performance.
Closure
Most individuals are devoted to their coffee/tea cups. They want their drinks delivered in that specific beer-inspired cup. They have numerous memories associated with that cup, thus it must be significant. People are highly careful when choosing a mug and evaluate numerous factors before making a decision. Ceramic beer mugs are the perfect option if you want a mug that is long-lasting, stylish, affordable, and of great quality. A lovely mug will always be appreciated, no matter what the occasion. If you're searching for a mug for yourself or someone else, a beer mug is a perfect option. You can always visit DramaShirt for the ceramic mug you always desired and that too at nominal prices.