NINTENDO
As an entertainment firm, Nintendo creates a broad range of products to assist its customers to enjoy their video games. Everything from apparel to home décor is available in Nintendo products!
There is a huge amount of nostalgia around Nintendo since it has been around for more than a century. Nintendo really created some of the most well-known characters in video games. Some well-known franchises that have been around from the beginning are Super Mario, Donkey Kong, and The Legend of Zelda.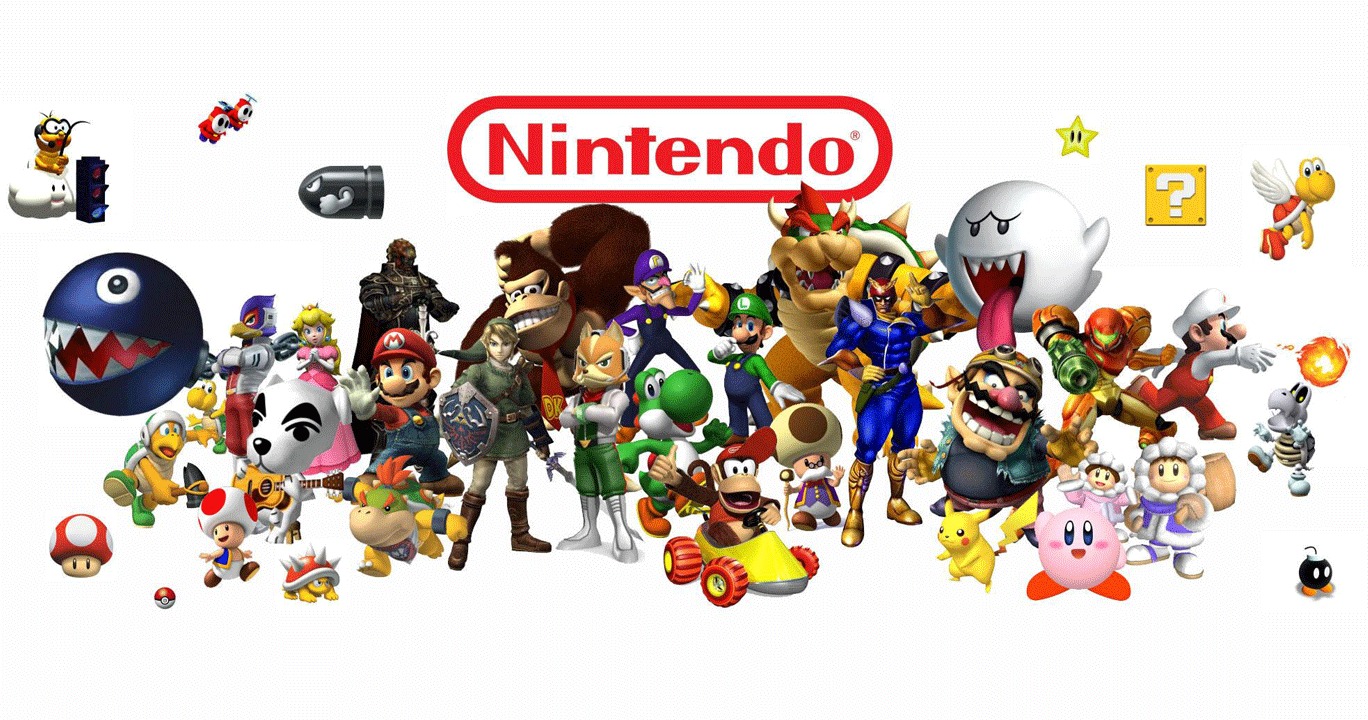 If you're searching for something unusual or intriguing to add to your collection, you'll find it here. There are several collectibles that are difficult to locate elsewhere in the world. We also provide many different alternatives at various price ranges, so you can pick something that matches your budget or discretionary cash. If you're not sure what you want or need right now, check out our gift collection above!
Nintendo-themed Products
Check out our assortment of Nintendo merchandise if you want a stylish way to show off your Nintendo obsession. Nintendo shirts are available in a variety of styles and sizes, ranging from t-shirts to hoodies. Artwork varying from Donkey Kong to Super Mario Bros., Zelda to Kirby, Link to Yoshi, and more may be found! We offer a wide range of designs on our Nintendo t-shirts, including many iconic characters like Mario, Donkey Kong, and Zelda, as well as some recent ones like Amiibo, Splatoon, and Animal Crossing!
We provide many alternatives for you, whether you want a simple tee or something more dressy. Our Nintendo tees are available in both men's and women's sizes, so you can select the one that's right for you. Try our crew neck shirts or tank tops if you want something more casual. If you're searching for something more professional or special occasion-worthy, we also have a variety of dress shirts and sweatshirts sweaters for the colder months. Why not check out our range of Nintendo shirts if you want a stylish way to show off your Nintendo fandom? The bright patterns on these tees truly stand out on displays. Furthermore, with so many various styles to choose from, there is something for every enthusiast!
If you're searching for something a little different for your wardrobe, check out our variety of alternative Nintendo apparel. We offer hoodies and sweatshirts with various characters from the series. There's also a wide range of tank tops, and unisex shirts to select from, which are ideal for bringing your clothes when traveling!
The purchase of a Nintendo shirt is an excellent approach to demonstrating your devotion to your favorite video game console. It doesn't matter whether you possess a Play Station or if you're a Super Mario Bros lover from back in the day; there's a fantastic retro Nintendo shirt out there for you. Wearing a shirt supporting Nintendo lets everyone know which team you're rooting for. You may let everyone know what you're into by wearing a shirt depicting one of your favorite video game franchises, such as Mario Brothers, Legend of Zelda, or Pokemon.
Whether you are looking for a simple logo design or something more complex, such as a shirt with a complete print design, we can help. We have a wide variety of clothes, from tank tops and sweaters with crew necks to long-sleeved t-shirts with unique patterns. Also, don't overlook the importance of our hoodies!
Where Did Nintendo Originate From?
Fusajiro Yamauchi, a merchant, and craftsman sat at his new offices on a tiny side street in the historic Japanese city of Kyoto, producing brilliantly colored playing cards.
The Hanafuda cards were exquisitely adorned and hand-made. They were so popular that Mr. Yamauchi had to hire others to assist him to make them.
What Mr. Yamauchi did not know – and would never know – was that his card business, which opened on September 23, 1889, in Japan's ancient Imperial Capital, would expand within a century to become one of the world's largest and most important gaming firms.
This is Nintendo's story.
Hanafuda's Two Sides
The Nintendo corporation effectively manufactured cards embellished with natural sceneries and motifs for the next 70 years.  Hanafuda, which translates as "flower cards," was split into twelve suits, one for each month of the year.  Traditional Japanese games, as well as Western-style 52-deck playing cards, impacted them.
Instead of numbers, they utilized images on the cards.  Nintendo's cards quickly gained popularity across Japan. However, the vividly colored images gradually became associated with gambling and the Yakuza criminals.
The name 'Yakuza' is derived from the numerals ya-ku-za, or 8, 9, and 3; a zero score in the card game Oicho-Kabu.  Members of the Yakuza even get tattoos inspired by the images on Nintendo cards.  Because of its historical link with criminality, many Japanese people no longer like playing hanafuda.  However, due to the popularity of the cards, Nintendo continued to create hanafuda until they went out of favor in the 1960s.  At this moment, the Nintendo corporation was flipped upside down by its new CEO, Hiroshi Yamauchi.
From Cards To Cartridges
At the age of 22, the great-grandson of Fusajiro Yamauchi took over Nintendo in 1950.  He was renowned as a strong and occasionally intimidating leader, but one who was also passionate and inventive.  His ambition was to diversify the company's operations outside card manufacturing, such as toys and amusement arcades.
Hiroshi, on the other hand, never liked video games and had only played one in his entire.  The firm had some great successes in making electronic games with huge markups, but nothing compared to what was to follow.  Nintendo rose to prominence in the late 1970s as a result of an investment in a rapidly developing technology.  That technology was video games.
Atari, Mattel (manufacturer of Barbies), and Taito had already begun to develop in this sector. Perhaps you've heard of games like Pong and Space Invaders. Nintendo started developing its first electronic video game devices in 1975. They created a computer game version of the board game Othello by 1978. But this was only the start.
Jumpman's Legend
Shigeru Miyamoto, a Nintendo artist, created a revolutionary game in 1980. Donkey Kong was the name of the game. The adversary was a big gorilla with an endless supply of barrels, and the hero was a guy dressed in a red boiler suit and sporting a little red hat.
He was known as Jumpman, but you may know him better as Mario, the Italian plumber. Donkey Kong swept the globe and became a smashing success in arcades.
Jumpman was quickly renamed. Mario Segale, the landlord who owned the warehouse where Nintendo's American headquarters was located, inspired his name. Nintendo developed new games such as Donkey Kong Jr. (in which Donkey Kong's son must escape his father from Mario's clutches), The Legend of Zelda, and Super Mario Bros. Super Mario Bros was a blockbuster success, and Mario's character became well-known all over the globe.
As a result of the popularity of these games, Nintendo released a new home gaming machine called the Nintendo Entertainment System, or NES for short. It was initially introduced in Japan as the Famicom, but it arrived in the United States two years later and helped revitalize the gaming industry.
By 1989, Nintendo had developed the technology needed to produce its first portable system, the Game Boy. The first hand-held gaming system had been built 10 years previously, but Game Boy was popular due to its unique design and long battery life.
Nintendo's Inexorable Ascent
The ascent of Nintendo's success looked unstoppable at times. It has spawned a slew of beloved characters and famous games over the last 30 years. Link from The Legend of Zelda became a cult figure in the 1998 game Ocarina of Time. Luigi is Mario's new sibling. Both became villainous alter-egos, Wario and Waluigi.
New consoles, such as the Nintendo DS (a two-screen device with multiplayer capacity) and the Nintendo Wii (a motion-sensitive system), enabled the corporation to broaden its reach and impact.
According to Guinness World Records, Nintendo has four of the top ten best-selling gaming systems, behind only Sony's PlayStation, which has five. Their most popular system to date, the Nintendo DS, has sold 154.9 million copies. Nintendo was quickly regarded as the epicenter of contemporary gaming invention. However, two gaming fanatics who self-published a magazine called Game Freak contributed significantly to Nintendo's success.
The Legend of Pokemon
Satoshi Tajiri and Ken Sugimori, the inventors of Game Freak, began as writers and illustrators for a gaming magazine in Japan and chose to make their own game after being dissatisfied with what the market had to offer. This started with a series of Nintendo games such as Mendel Palace, Yoshi, and Mario & Wario.
However, in 1998, two new games were released in Japan that quickly became a worldwide phenomenon. Capsule Monsters was proposed to Nintendo many times but was never picked up. Pocket Monsters was soon revamped. Players may collect monsters in little balls while traveling through a fictitious realm filled with trainers, fights, and badges.
With the debut of two Game Boy games, Pokemon Red and Pokemon Blue, players could only acquire the 151 distinct monsters by buying both games or by sharing Pokemon with friends using the Game Link Cable, which linked two individual Game Boys together. Following Pokemon's worldwide popularity, a massive franchise was formed – Pokemon toys, trading cards, anime, manga, and movies all followed, contributing to Pokemon's ongoing success today. Pokemon founders Game Freak and Nintendo reaffirmed their collaboration.
Concluding
These are the most desirable pieces of Nintendo goods currently available. These gifts range from humorous to classy, and they are appropriate for fans of varying ages. The creative energy that was put into each of these Nintendo products is certain to win over the heart of even the most devoted of fans.