It's approaching Halloween, and I'm sure you're already thinking about your Halloween decorations. The trick-or-treaters are on their way… You're really a few months away from that, but I digress. If you're looking for some reasonably priced and creepy Halloween coir doormats to freshen up your doorway and welcome the neighbors, look no further. Drama Shirt has compiled the best Halloween Coir Doormats for you to spook up your entry. Let's check them out!
What is coir? Coir, a robust, durable fiber found between the husk and outer shell of a coconut, is used in a wide variety of products. Manufacturers are experimenting with the vast range of advantages that this natural fiber provides, from mulch blankets, fish nets, and rope to brushes, basket liners, brooms, and doormats.
The best part about coco doormats is that they are organic and environmentally friendly. Coir mats are ideal for eco-aware consumers who want to lower their total environmental imprint. The manufacture of a coconut fiber doormat generates very little non-biodegradable trash. This benefits the environment by contributing to a decrease in the trash that cannot be broken down organically by nature. This is a significant benefit of coir over other synthetic materials. As a more immediate advantage to you, coir entry mats are cheaper than their man-made synthetic equivalents. They help you save money while also reducing your environmental impact.
Coir doormats are not only attractive but also incredibly practical. They are produced from coco fiber taken from the outer husks of coconuts, making them a natural and eco-friendly doormat.
These door mats are also excellent for keeping dirt, muck, and mud right at the entry and are best used in dry, sheltered settings. At the same time, you can add some designs to your mat to show your personality, especially this Halloween.
The following are the top 5 advantages of utilizing a Halloween coir doormat:
Be quick to dry. Mildew will not develop, freeing you of the stress of a decaying welcome mat. Your neighbors will appreciate it.
Remove dirt and dampness from your shoes. You no longer have to be concerned about your newly cleaned flooring being scuffed by the youngsters.
Be water-repellent. You don't have to worry about a moldy mess if your doormat or rug isn't wet. Even better, coir door mats defend against salt during the cold winter months.
Be simple to clean and vacuum. The coarse coir fibers repel dirt particles and respond nicely to a mild soap, making cleanup a breeze.
Not create static electricity.
In our online store, Halloween Coir Doormats are very resilient and provide long-lasting beauty and practicality to your front entrance. They work best in a dry, sheltered environment (porch or other covering keeping it from direct rain). They are eco-friendly and very functional since they are made from a renewable resource (coconut shells).
Moreover, Halloween is a fantastic time to dress up, become eerie, and have a fun time. The holiday is more widely celebrated than it has ever been before, and as a result, there are now a variety of appealing Halloween decorations available. Consider a coir Halloween doormat if you want to easily scare up your doorway! Visit our Coir Doormat Collection now to decorate your entry!
Halloween Coir Doormat Ideas For Your Home
Welcome to the creepy and fascinating world of Halloween. This is the time to dress up, scare your friends and neighbors, and have a pleasant laugh!
If you want to add some additional excitement to your Halloween party, you may try purchasing a couple of
Coir Halloween Doormats
. These mats will not only improve the appearance of your entrance door but will also add elegance to it. They are beautiful and practical, assisting keep dirt outside your home and prevent visitors from tracking it in when entering or exiting your home.
There are several alternatives accessible to you when it comes to selecting the ideal design for your mat. Their designs contain frightening witches, ghosts, spiders, pumpkins, and much more. You may also add a variety of hues, such as green, orange, or black color to your mats.
The nicest thing about these mats is that they may be used all year long, not just around Halloween! In fact, if you want to acquire more than one, that's OK too, since you'll always have something fresh.
Shop at Color Coir Doormat Collection to find your favorite designs!
Here are some great items for you:
3D Skull Hole Coir Doormat
Our 3D Skull Hole Coir Doormat will ensure that your visitors are always welcomed. This doormat, with its unmistakable skull design, may undoubtedly create an oasis separate from the rest of your home. This coir doormat is simple, attractive, and fashionable, and it will undoubtedly be a talking point next to your door or at the entry to your home.
Buy Now!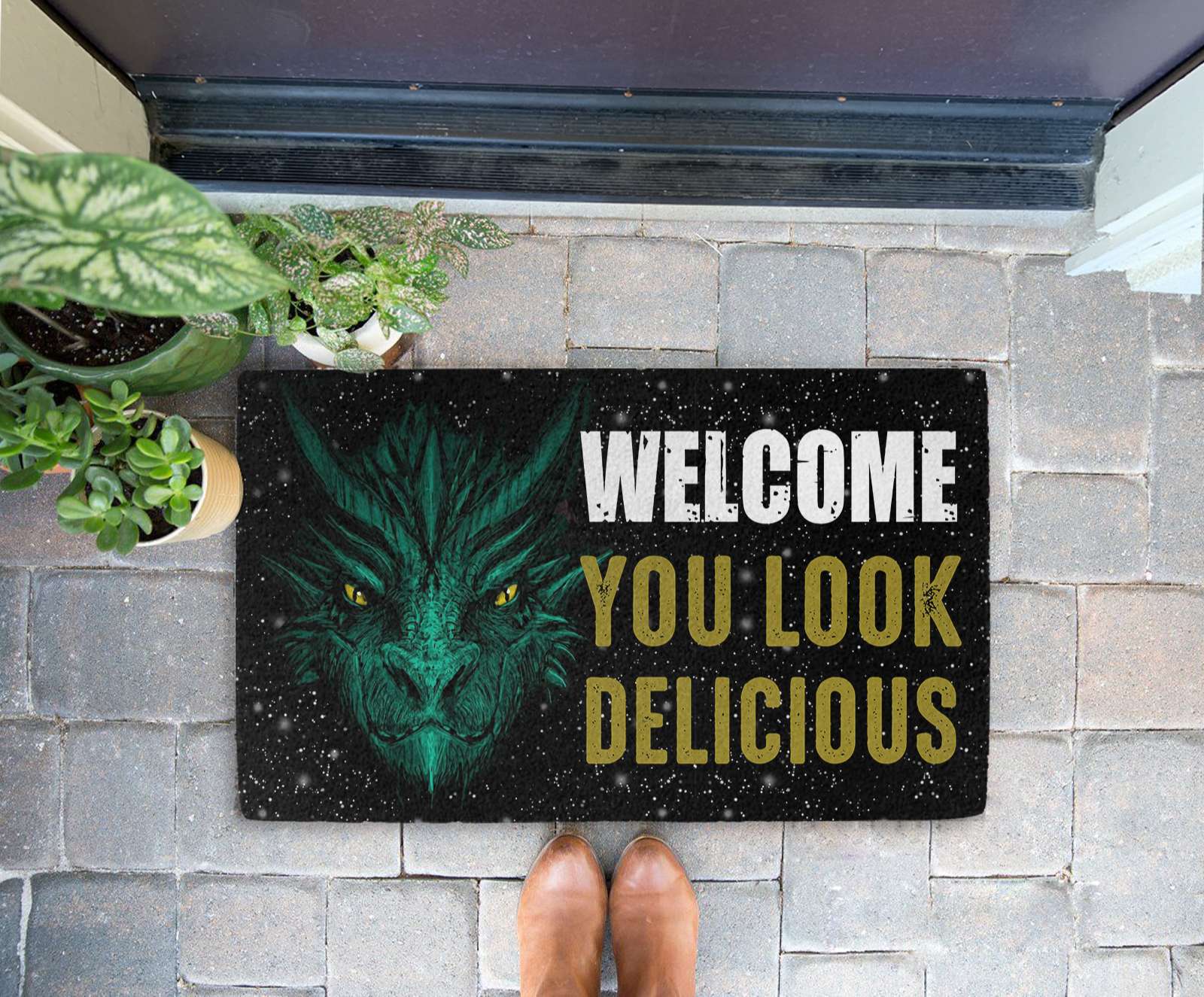 Dragon Welcome You Look Delicious Coir Doormat
The charming and one-of-a-kind Dragon Welcome You Look Delicious Coir Doormat will add a whimsical touch to your house. This vibrant coir mat creates an eye-catching statement, ideal for bringing flair to your entryway or as a decorative accent item in any area of your house.
Buy Now!
Go Away White Cat Coir Doormat
Get cozy at home or take some time out to unwind with this funny kitten pattern on Go Away White Cat Coir Doormat. A terrific way to greet friends or show off your affection for animals. This mat is made of long-lasting coir and will last for years inside or out.
Buy Now!
Money Can Buy A Lot Of Things But It Doesn't Wiggle It's Butt Everytime You Come In The Door Coir Doormat
Did you hang out with your friends? Want to unwind after a long day at work? This Coir Doormat is perfect for brunch or happy hour!
Buy Now!
Oh Look Another Glorious Morning Make Me Sick Hocus Pocus Halloween Color Coir Doormat
This item is a long-lasting, soft, and absorbent mat with a beautiful pattern on the front. It is an excellent accent to any attractive house décor. The mat is ideal for preserving your floors from dirt and grime while also adding some fun or Halloween spirit!
Buy Now!
There Is No Reason For You To Be Here Coir Doormat
This Halloween doormat coir speaks for itself. It may be used to maintain the entryway of any area clean, such as a hotel lobby or workplace halls. It will undoubtedly be noticed and may result in favorable comments from your customers. A delightful present for anybody who needs a little reminder to remain on track from time to time.
Buy Now!
No Need To Knock Dachshund Has Alerted US To Your Presence Coir Doormat
Dachshunds are excellent watchdogs. So, if you want to replace your usual welcome mat with something genuinely distinctive, why not go with this no-knock coir doormat featuring a dachshund alerting its owner to the arrival of visitors?
Buy Now!
All Are Welcome Here LGBT Coir Doormat
All Are Welcome Here LGBT Coir Doormat is a great reminder that you are always welcome, regardless of your color, religion, gender, or orientation. This is an excellent housewarming present for any new family.
Buy Now!
Thank you for reading our collection of the top coir Halloween doormats. We have classified both coir doormat and coir color doormat choices, so you should be able to find something that meets your requirements. In addition to saving the environment, you may feel good about using one of these mats instead of a plastic or rubber one. As always, we appreciate you taking the time to check out our list, and we hope that these reviews have helped you choose the best Halloween doormat coir for your needs.