With a lovely doormat at your front entrance, you can welcome your family and guests. If you're considering adding a coir doormat to your entrance design, you maybe begin to wonder what it is. Drama Shirt researched the coir mat to provide knowledge for you.
What You Need to Know About Coir Doormat
What is a Coir Doormat?
Despite may not having heard of coir matting, you have most certainly seen it when you go through the doors of houses and businesses. Coir mats are often used for porches and entranceways. Coir matting, with its short, stiff bristles, assists in drying shoes and removing dirt before entering.
Coir matting is often brown in color. It may, however, be dyed in a variety of colors to match any home design style. The characteristics stay the same regardless of color; robust lasting bristles that give excellent cleaning.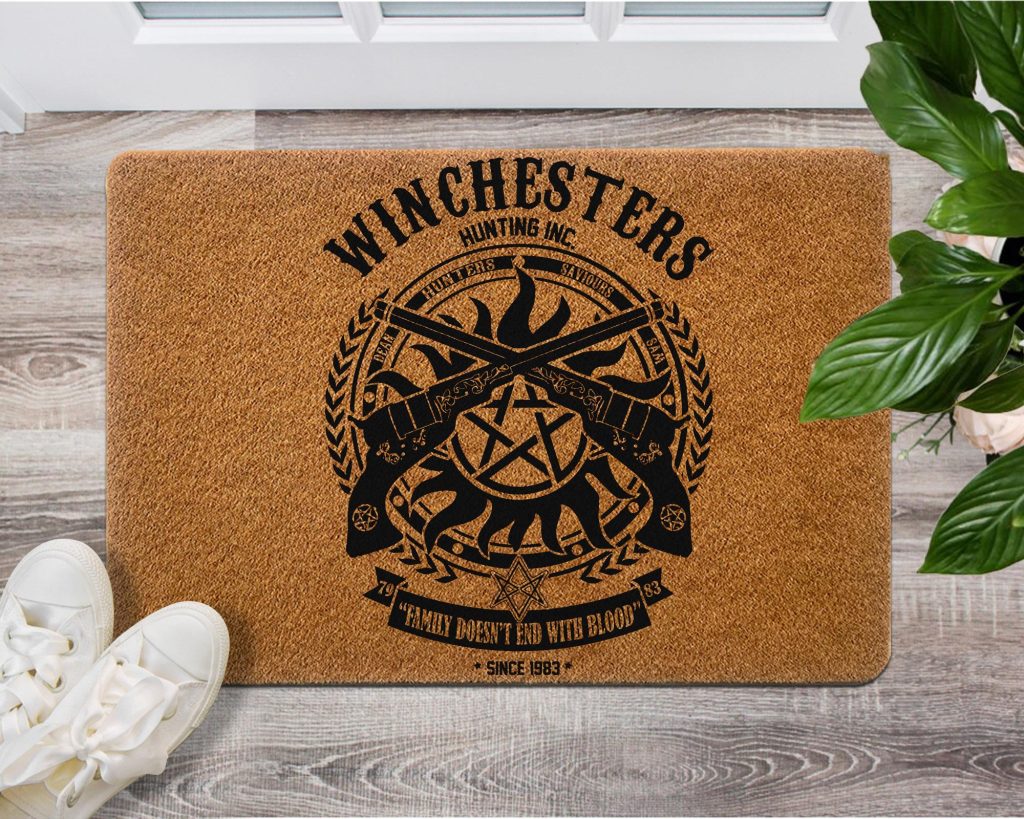 What is Coir Matting Made of?
While many people refer to coir matting as a "doormat," it is also referred to as a "coco mat," "coconut mat," or "entry matting."
Coir mats are entirely composed of natural fibers. These eco-friendly, natural fibers are produced from coconut husk. The husk is the water-resistant covering that exists between the coconut's outer coating and the hard shell within.
Coir fibers are noted for their strength and durability; after all, they shield the coconut from a range of situations, and their waterproof nature aids in keeping the coconut flesh fresh even after it has drifted for several days across the sea.
The stiff, thick walls of the fibre comprised of insoluble cellulose are responsible for the coir fibers' strength. Coir fibers also have a high concentration of lignin, a chemical found in plants that makes the plant woody, brittle, and hard, reducing the likelihood of the plant decaying.
Coir, or coconut husk, has inherent qualities that make it suitable for matting since it is water-resistant, sturdy, and long-lasting. Furthermore, the coir's eco-friendliness makes it an ideal option for the ecologically aware buyer.
How long will a Coir Mat Stay in Good Condition?
This will be contingent on the volume of foot traffic that the entry receives, the depth of the mat, and how well it is maintained. The mat has an expected lifespan of six years under normal conditions. The answer to this question will change based on the application. The edges of the mat would still be OK, but the centre would face greater wear and tear since we tend to walk in the middle of an entryway when we go anywhere.
It is essential to bear in mind that the mats might become less thick over time as a result of normal wear and tear, which can result in a risk of tripping. It is essential to maintain a careful check on the mat's upkeep and replace it whenever it becomes necessary to do so.
What are the benefits of coir doormats?
Coir matting is a popular option for entrances, porches, and doors for a variety of reasons:
1. Longevity
Because of its durability and resistance, coir matting is perfect for places with heavy traffic. The cleaning quality of coir matting may be excellent for many years.
2. Naturality
Coir is an environmentally sustainable product since it is made completely of natural materials. It is also biodegradable because of this. The nature of coir, however, prevents it from happening for a very long period. For individuals who like a classic and genuine style, the natural appearance is great.
3. Being economical
The cost of coir matting is reasonable, and installation is not too expensive. You may use a knife to cut mats to the precise size you need, eliminating the need for specialized equipment, machinery, or suppliers to produce the mats in the right size.
4. Flexibility
Along with a variety of colors, coir matting may also have a natural finish. Direct sunlight may wear the mat if you pick a natural finish, but this typically enhances the surface and gives it a classic look. Because coir matting is simple to cut, it is perfect for door recesses and entranceways of all sizes.
5. Slips prevention
In addition to absorbing water, coir matting is powerful enough to scrape mud and debris off the shoes. This may lessen mess brought on by damp and muddy shoes and reduce the risk of a slip accident. Once dried, coir mats may be cleaned with a vacuum or by shaking the dirt off outdoors.
Experts' Picks for the Greatest Doormats
Depend on whether the mat is inside or outside, you can choose the best doormart for your house. The rough bristles that are found on coir mats make them well suited for usage as entry mats and will guarantee that a clean step is taken into any establishment in which they are placed. The mats are often put to use in places where there is a need for the construction of environmentally friendly buildings or where there is a necessity for a natural appearance and feel to suit the aesthetic of the entryway.
In a Washington Post's interview, Joy Cho of California design company Oh Joy said that doormats are a fun way to welcome guests and capture dirt, wetness, and snow before shoes are brought inside. Cho advises choosing a primary entrance that makes a statement or has a pleasant welcome. It's wonderful to have a softer, thinner rug on the inside and a more bristly, robust one on the exterior.
The fiber coir, manufactured from coconut husk, is excellent for external doormats in most temperatures, says Terrain's Handel – a buyer for the garden and home store Terrain in Pennsylvania. She recommends a thick, scratchy doormat to scrape off dirt.
In the Midwest and Northeast, winterproof doormats are needed. Everygirl Media Group co-founders Alaina Kaczmarski and Danielle Moss utilize coir doormats. Kaczmarski claims the bristles absorb moisture and capture snow when you clean your feet. She believes coir is worth purchasing since it's great at snow removal.
Is It Possible to Paint a Coir Doormat?
The fact that coir doormats may be customized in addition to looking good in their natural coloration is one of the material's many attractive qualities. It is possible to paint coir by applying outdoor acrylic paint via a stencil in order to create a pattern or letters to your mat.
If you aren't quite the do-it-yourself type, you can discover a myriad of varieties of coir doormats, including words, family names, geometric patterns, borders, pets, and flowers, to welcome family and guests into your house. These doormats can be found in stores. Let's check the following fun doormats made of coir at our Coir Doormat Collection:
Frequently Asked Questions
1. Where to Buy a Coir Doormat?
It is not difficult to maintain high-quality coir mats since the material is natural, durable, very absorbent, resistant to fungal and bacterial growth, and long-lasting. The key is to maintain the coir mats looking new by cleaning them on a regular basis; this will ensure that they continue to be effective in protecting your flooring for many years to come. Coir doormat is really useful and essential for your house.
There are a various coir doormat providers so that you can purchase adorable mats to welcome your lovely guests, decorate your house and show your personality. Drama Shirt is a suggestion for you. We have durable coir mats with fantastic designs to upgrade your house looking.
We not only have high-quality coir mats in store but also provide three sizes(inches): Small (16 x 24), Medium (18 x 30), and Large (24 x 35). Also better, you can even add something you want like adding your branding, name etc. This will allow you to personalize your mat.
2. How to Clean the Coir Doormat?
The key to thoroughly cleaning this mat is patience. Avoid persistent stains by cleaning this mat as soon as possible after soiling. Consider using harsh detergents to avoid discoloration or markings on your mat.
Cleaning a coir mat in four steps:
Step 1: Vacuum your mat well with a dry vacuum.
Step 2: Lightly rub cleaning powder on the mat.
Step 3: Apply the cleaning powder for at least 30 minutes.
Step 4: Vacuum once more to eliminate any remaining cleaning powder and debris.
The bristles of the coir mat scrape off dirt, but the debris becomes lodged deep inside the area between the bristles, causing the mat to grow heavier, and shaking the mat out to remove dirt may create a tear.
Keeping a coir mat from shedding its fibers
Since coir is a natural substance, it tends to shed, especially during the first few of weeks of usage. Coir doormats provide a natural appearance and a great surface for scraping shoes. Coir fibers may shed off the mat with bristles and then spread on to floor areas, making them seem to be a bit messy. Coir mats of a higher grade shed less than coir matting of a lower quality does.
In contrast to a loose-lay coir mat, the edges of a mat that has a mat well or a recessed coir mat will be secured and kept in place by the mat itself, which is one technique to assist alleviate this issue. This will prevent the bristles from escaping from the area where they are to be vacuumed. Your coir mat will have a longer lifetime and be free of any concerns related to shedding if you vacuum it on a regular basis.
There are a number of considerations that need to be made when selecting a nice doormat, but they can all be summed up in one sentence: the doormat should be long-lasting and have a wonderful appearance. People who enter your house will think highly of you as a host or hostess if you have a coir doormat since it not only helps avoid sliding but also has a fantastic classic design and brings a cozy sensation.