On July 4th, the United States of America will commemorate its Independence Day. If you were born in America or presently live there, now is the moment to honor the nation in all of its splendor. If not, are you wondering what the holiday means or how to observe it? Look through the post provided here to discover all you need to know about the Fourth of July.
When we think of the Fourth of July, we normally think of parties, celebrations, and fireworks. It might be difficult to choose the right 4th of July shirt design for your Independence Day activities or gatherings.
Drama Shirt has compiled a fantastic collection of the 4th of July shirts. The list will most likely assist you in making a selection!
Things You (Probably) Don't Know About the Fourth of July
4th of July History
Independence Day organized on the Fourth of July is a federal holiday in the United States commemorating the passage of the United States Declaration of Independence by the Second Continental Congress on July 4, 1776.
The Second Continental Congress proclaimed the thirteen American colonies to be unified, free, and independent nations, no longer subject (and subservient) to King George III of the United Kingdom. The Congress had voted two days earlier, on July 2nd, to proclaim independence, but it was not announced until July 4th.
The Meaning of Independence Day
The historical significance of this beautiful festival is one of liberty and independence. It is a particular moment for Americans to reflect on how lucky they are to live in "the land of the free," as the Star-Spangled Banner, the United States' national song, says.
4th of July Recipes
We said that many families celebrate with a massive BBQ, and it's a feast you'll never forget! Hot dogs and hamburgers on the grill, with a side of corn on the cob and Coleslaw, are some of the traditional meals served at a Fourth of July BBQ.
This is a fantastic chance to utilize your creativity and create something unique and festive for dessert! Many individuals will prepare fruit cakes in the style of the American flag, while others will enjoy red, white, and blue popsicles that are both aesthetically attractive and tasty! If you are wondering about dishes, view more 4th of July Recipes.
4th of July Activities
The Fourth of July is a joyful and lively event in the United States! Seeing a spectacular fireworks show at your local park or stadium is one of the most popular ways to celebrate. These spectacular fireworks flood the sky with red, white, and blue colors, making the Fourth of July celebrations unique for the whole family.
The real enjoyment, however, comes before the fireworks show! Many families may go for a stroll along the beach or to a park for a mid-day barbecue. Others may find themselves partaking in a watermelon eating contest or watching a Fourth of July parade filled with live music, bicycles, and fun! You can plan some 4th of July activities to enjoy this day. 
The Independence Day is approaching. If you're seeking fourth of July shirts, our Top men and women's fourth of July shirt list is for you! Let's take a closer look!
Top men and women's 4th of July shirtS
Women's Fourth of July Shirts
All American Auntie Matching Family 4th Of July Rainbow Premium T-Shirt
Show your love for aunts with this All American Auntie Matching Family 4th Of July Rainbow Premium T-Shirt. The perfect gift for aunts, nieces and nephews of any age!
Shop now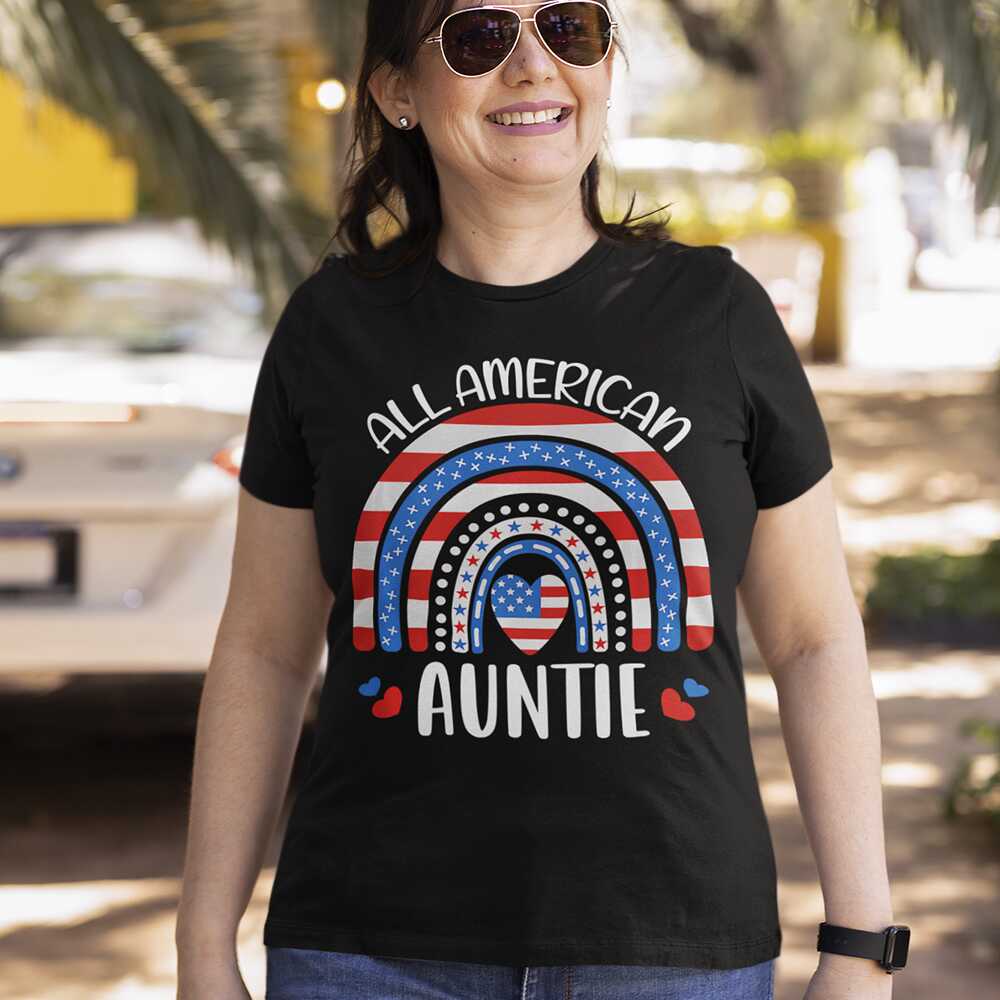 All American Mom Brave Independence Day Shirt
Show off your mom pride on July 4th with this funny, patriotic shirt that proudly proclaims "all American mom." This is a great gift for Mother's Day or for that special lady who has raised her family and deserves to celebrate.
Shop now
American Lunch Lady Rainbow Happy USA Flag 4th Of July T-Shirt
This timeless and comfortable tee is ideal for celebrating the Fourth of July, Veterans Day, or any other patriotic holiday. The American Lunch Lady Rainbow Happy USA Flag 4th Of July T-Shirt is appropriate for any season. Wear it to work, school, the beach, or anywhere else you want to flaunt it!
Shop now
Disarm America T-Shirt
Disarm America T-Shirt. Buy this custom designed Disarm America T-Shirt to show your love for peace and justice.
Shop now
Let s Talk About The Elephant In The Womb Funny T-Shirt
Let's talk about the elephant in the womb! This funny pregnancy shirt with a cute little elephant is fit for all expectant mothers.
Shop now
Patriotic Gnomes 4th Of July USA American Flag Cute Gnome T-Shirt
Show your American love with this cheeky gnome T-shirt! This adorable gnome is wrapped in a 4th of July USA American Flag and is sure to make people smile. The ideal shirt for any patriot on Independence Day, the Fourth of July, or any other patriotic event!
Shop now
Ultra MAGA T-Shirt
We are happy to launch the Ultra MAGA t-shirt and hooded sweatshirt. This brand new design is guaranteed to impress all of President Trump's strongest fans!
Shop now
We offer a large range of patriotic shirts for both men and women in our shop. These tees are excellent presents for friends and family members that like commemorating their history on this particular day. Whether you want a basic T-shirt or something more formal, or other clothes such as Hoodie, Sweatshirt, Tank Top, V-Neck, Long Sleeve Tee, find them at Patriot Collection. It has a lot of amazing 4th of July shirt ideas with various color for you.
As you can see, we introduced a great collection of patriotic 4th of July shirt for men, ladies, and those searching for presents for special friends and family. We hope the shirts mentioned in this post help you choose the right top for your big day or simply an everyday design to wear with pride.
Whether you're looking for these red, white, and blue fashions or not, keep in mind that America is both a state of mind and a physical location. The United States represents liberty, hope, opportunity, and zeal. The United States is a place where you may pursue your ambitions and become whatever you want to be. This year, we celebrate all of our liberties – freedom of speech, equality, and love – so let us enjoy the United States and the road that has gotten us here! So watch the fireworks show, eat some hot dogs with your friends and family, and have a cozy party!